Marie Pack
Singer, Songwriter, Music teacher
Concerts
| | | | |
| --- | --- | --- | --- |
| 11. Dezember 2022 | 18 Uhr | Weihnachtskonzert – Kgl.St.Cäciliengesangverein Walhorn | Walhorn (BE) |
| 27. November 2022 | 18 Uhr | Kgl.St.Cäciliengesangverein Walhorn | Housse (BE) |
| 2. Juli 2022 | 20 Uhr | Mary & The Poppins | Jacobshof Hauset, BE |
| 22. Mai 2022 | 15:30 Uhr | Mary & The Poppins | Musikmarathon Eupen, BE (Am Clown) |
| 14. Mai 2022 | 12 Uhr | Mary & The Poppins | 3RidesFestival Aachen, DE // CHIO-Gelände |
I'm attracted to the piano from an early age on which lingers until today.
After several years of classical piano classes during my childhood and youth, vocal pop music enters my life. More and more, I play the piano while singing and start to compose my first songs. My self-confidence is growing until I find myself singing in front of an audience. I'm sixteen and I have my first band.
I feel the urge to explore my voice and get to know about vocal technique, but it used to be really hard to find a singing teacher of pop music where I come from – a region called Sauerland in the midwest of Germany and in the middle of nowhere. That's why I don't really consider a professional music career at first. So I finish school, leave home and I try out studying without passion. I'm twenty-one and I enjoy life as a student in a big city along the river Rhine. This is where I finally find a singing teacher and an interesting music scene. I decide to become a Jazz singer, but I will soon have to face the fact that the world didn't wait for a provincial pop music singer from the Sauerland. Another year passes in which I'm preparing myself to audition and follow my dream of a professional music career. I'm twenty-three when I finally get to study at the conservatory of Maastricht (NL).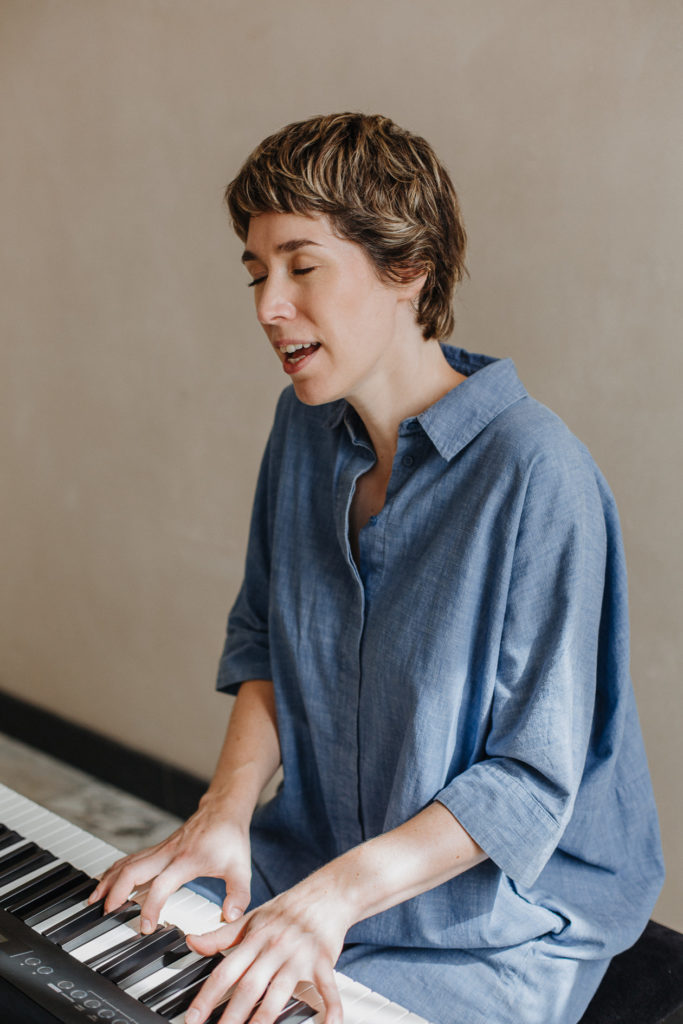 From 2008 till 2012, I graduate from Maastricht conservatory with a Bachelor of Music degree in jazz/pop vocals and a minor in vocal teaching.
Through the following years, I gain experience as a vocal + piano coach at different music schools in Germany, Belgium and the Netherlands. I also lead projects on a more temporary basis, such as music workshops in combination with language skills for refugee children, leading a school choir and gaining insights into teaching music theory at several secondary schools in and around Aachen (GER).
In 2013, my band Mary & The Poppins is born who continues to be the music project that represents most of my artistic work and my musical being. For the first time, I find myself in the roles of the composer and the arranger, following a long-existing dream: to arrange my music for string instruments.
In September 2017, I go back to Maastricht conservatory where I get fresh input for my arranging skills and vocal technique. Two years later I graduate as a Master of Music with a diploma in one hand and a newborn baby in the other hand.
Meanwhile, I work as a vocal + piano coach at MUFAB' and Freie Musikschule Music Loft in Aachen (GER), and as a vocal coach at Musikakademie der deutschsprachigen Gemeinschaft in Eupen (BE).
Moreover, I am very happy to have had the chance to take over the direction of the semi-professional choir Gesangsverein Walhorn in 2020. According to this new musical task, I am following an advanced training through the Chorverband NRW in "choir leadership" in order to face this inspiring work with self-confidence and skills.